Product Name: 2015 new professional inverter MMA pulse arc welding machine MMA-275P
Model NO.: MMA-275P
Origin: China
Packing: export carton
Brand Name: DANCY
Delivery Time: 20 Days
Minimum Order: 200 Piece/Pieces
Supply Ability: 600pcs/day
Quality System Certification: CE EMC
Product Details: 2015 new professional inverter MMA pulse arc welding machine MMA-275P
MMA275P pulse mma portable arc welder ,the best welder with perfect quality and price
It is a new arrival for welding marketing,that is MMA PULSE welding machine MMA-275P,It has been launched into marketing since 2015 successfully after nearly 1 years hard work by our research and development department people.
Pulse function is designed at option.You can do welding under of pulse function or no-pulse by adjustment.
Thanks of pulse function,adjusting welding gap and welding speed,welding pool depth become practical.This machine help people get a great performance,even no-professinal people could make a perfect welding job!
This welding machine MMA275P is a pocket size inverter ARC welder,do welding with Cored electrode.It is excellent to use both in the factory or for outdoor field work. The applications are range from marine construction, steel craft job and small maintenance work. Thanks to the digital display, the welding current can be adjusted easily and accurately . Ideal for welding metals such as iron, stainless steel and cast iron; Rutile diameter 1.6 mm to diameter 5.0 mm. and basic electrodes up to diameter 5.0 mm. with extreme ease and continous welding for a long time without going protection.
The welding machine is very light, compact, practical,easy to handle.It is delivered in a practical export carton (durable aluminum top box is available) along with 300A electroder holder with welding cable 3m,300A ground clamp with wire cable 2.0 m. Soldering protection mask is supplied with machine together,as well as slag hammer. Thanks of voltage auto-compensation design,the machine works perfect at voltage unstable area,it also be used with generator +/- 25%.
The Duty cycle of this inverter welding machine are at 100%, this means , in a working cycle of 10 minutes, the welding machine at maximum power, welding continous without get heat going into its protection.Most welder in the marketing are offerd with 60% duty cycle,that means the welding works for 6 minutes before the heat going into its protection. The current required to weld a rutile electrode 2.5 mm,it is about 75A.Meanwhile.this machine is designed with anti-stick device . Anti Stick is to prevent sticking of the electrode.Thank of voltage compensation automatical device,the machine be connected to motor generator (9 kw) for field work
Should you get interest,kindly please send enquiry of this model directly on our website ,we are glad to share excellent quality and price with you.
Technical Specification
Over heat protection
Over loding protection
IGBT technology
Anti-stick
ARC FROCE
MMA pulse
Industrial use
Product No.

Technical Spec.

Packing information

Accessories

MMA-225P

MMA PULSE

WELDER

1. Input:220V~230V,±25%

2. Display output:10A-225A

3. 35/50 socket

4. Duty cycle:100%@180A@35℃

5. Machine size:320X250X153mm

6. MMA weld metal thickness:0.5~4.0mm

7. Max electrode:1.6-5.0mm

1. Package size:370x270x260mm

2. N.W/G.W : 6.5/8.7kgs

3. Loading QTY

4. 20fcl/40fcl :1400pcs/2400pcs

1. 1.8m power cable

2. 300A electrode holder with 3m working cable

3. 300A earth clamp with 3m welding cable

4. Welding mask

5. Slag brush

MMA-250P

MMA PULSE

WELDER

1. Input:220V~230V,±25%

2. Display output:10A-250A

3. 35/50 socket

4. Duty cycle:100%@180A@35℃

5. Machine size:320X250X153mm

6. thickness:0.5~6.0mm

7. Max electrode:1.6-5.0mm

1. Package size: 370x270x260mm

2. N.W/G.W : 6.5/8.7kgs

3. Loading QTY

4. 20fcl/40fcl : 1400pcs/2400pcs

1. 1.8m power cable

2. 300A electrode holder with 3m working cable

3. 300A earth clamp with 3m welding cable

4. Welding mask

5. Slag brush

MMA-275P

MMA PULSE

WELDER

1. Input:220V~230V,±25%

2. Display output:10A-275A

3. 35/50 socket

4. Duty cycle:100%@180A@35℃

5. Machine size:320X250X153mm

6. thickness:0.5~7.0mm

7. Max electrode:1.6-5.0mm

1. Package size: 370x270x260mm

2. N.W/G.W : 6.5/8.7kgs

3. Loading QTY

4. 20fcl/40fcl : 1400pcs/2400pcs

1. 1.8m power cable

2. 300A electrode holder with 3m working cable

3. 300A earth clamp with 3m welding cable

4. Welding mask

5. Slag brush
MORE PHOTOS: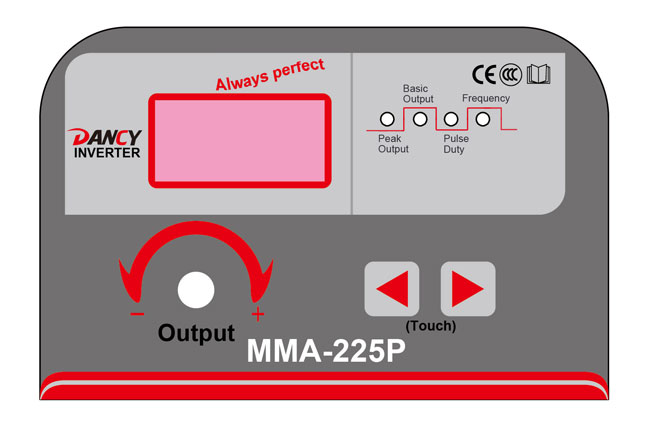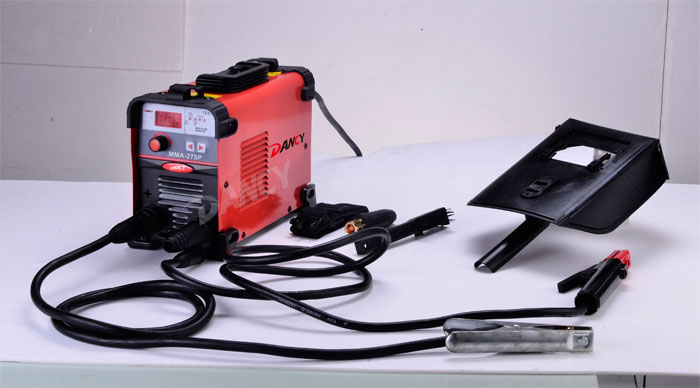 Please refer to video for performance,by search " MMA275P mma pulse arc welding machine performance" at GOOGLE

Pulse welding performance