Product Name: MOSFET model Industrial use MMA inverter welding machine ARC(MMA) 250
Model NO.: MMA250-V4
Origin: China
Packing: export carton
Brand Name: DANCY
Delivery Time: 20 Days
Minimum Order: 500 Piece/Pieces
Supply Ability: 600pcs/day
Quality System Certification: CE EMC
Product Details: MOSFET model Industrial use MMA inverter welding machine ARC(MMA) 250
1. FEATURES:
It is a new model of mosfet inverter MMA welding machine,apply for industrial welding use.
Material imported from Japan FUJY.Equipped with 300A arc holders and 300A earth clamp,excellent for industry use both in the factory or for outdoor job.
It is produced in pocket size,light weight,with strong handel,easy to carry and move.
It combined VRD ,ARC FORCE.Offer people professional experience.Got popular in India,Iran,Arab,Vietnam,Brazil,etc.
2. TECHNOLOGY:
Inverter MOSFET technology

Over heat protection

Over load protection

VRD

Arc force

Suitable for MMA welding of low carbon steel and low alloy steel with all kinds of welding rod

Max metal thickness : 4.0mm-5.0mm, max electrode 5.0mm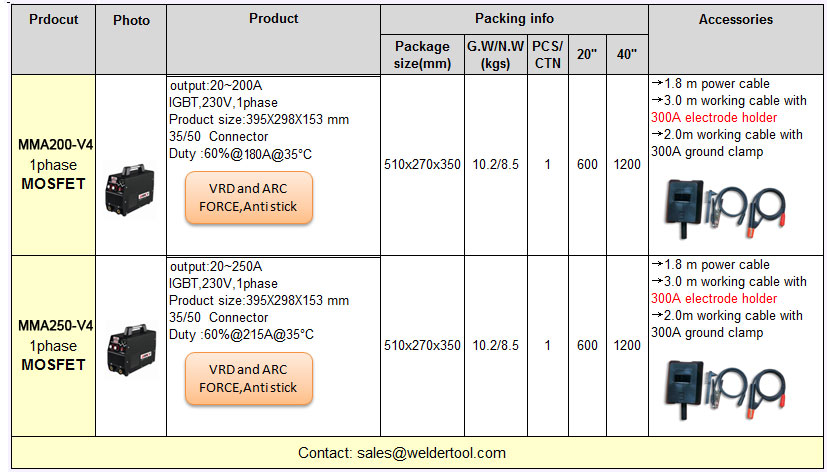 3.MMA/ARC 200 MOSFET MACHINE STUCTURE (SAMPLE)